We pride ourselves on creating delicious baby snacks,
perfect for your little ones.
This is where it all began…
As with all journeys, ours began with a single step. Our idea was to create a brand, which would stand out in the baby food market, a brand that would meet the needs of parents, grandparents and guardians, which would be enjoyed by little ones everywhere. We know how important good nutrition is during the early stages of a babies development and wanted to ensure small people had access to the best quality baby grade snacks, no if's or but's. We considered flavours and textures that would be enjoyed and products that would help to encourage dexterity and self-feeding.
And so baby cuisine was born, and we launched our first rice cakes in the UK. Since then we have perfected and expanded our range of products to ensure our customers are continually provided with the best products available.
Our team is made up of parents and experts with many years of experience in the food industry and so we know how to deliver excellence to our customers. From our own experiences we have developed a range that is tasty, interesting, nutritional and that little ones love to eat, any time.
Our continual dedication to sourcing the best quality baby grade ingredients and creating great tasting products has led us to launch products in both Tesco and Superdrug. We have since gained some great reviews from mums and dads across the UK, confirming what we believe; we deliver great tasting, quality solutions for baby snacking.
What next for Baby Cuisine?
We are extremely proud of what we have achieved so far, and are working hard to expand our range of products, bringing a greater variety of top quality baby snacks to the UK market. We will soon be adding corn puffs and 100% fruit puree pouches to our range and are looking forward to developing even more exciting products. We would love to hear from you with any ideas for products or flavours you would like to see.
Our promise
Our pledge is to always deliver the best baby snacking range we can, using only the highest quality ingredients.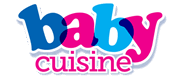 Be sure to follow us on facebook and twitter
to keep up to date with all things Baby Cuisine.